In the course of a routine year of tutoring physics I cover many topics but, because of the BC high school and UVic curricula, most of that time goes into kinematics and dynamics. Every year I help my students with the inevitable examples of cars, sleighs, baseballs and other objects they are familiar with from daily life. Space exploration has always been a favourite subject of mine and all students have seen videos of rockets in flight so it's always fun for me to talk about those for a change of pace.
Starting in 2016 I should have an exciting new example to use when talking about momentum and Newton's laws of motion. If all goes according to plan, April of that year should see the launch of the world's first fully functional solar sail spacecraft, to be called LightSail-1. Of course even today I can show my students, especially the online ones, video simulations of what the spacecraft will do but if the mission gets enough publicity my future students should hear about it through the media before they hear about it from me. That familiarity will make it much easier for them to relate to when I use it as an example for tutoring them in physics and showing them diagrams like this…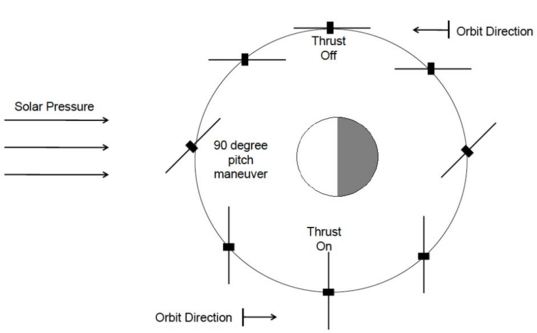 Please click here to learn more about this exciting mission from The Planetary Society and to read about some of the background like the failure of their ambitious earlier attempt to launch a solar sail mission from a Russian submarine by using a converted ballistic missile.